Crystal Oscillators and Filters
APC has a wide range of crystal oscillators including: XOs, VCXOs, TCXOs and OCXOs to 2.5GHz; ultra-low phase noise with <180dBc/Hz noise floor; and ultra-low g-Sensitivity OCXOs and TCXOs. In addition, QPL approved parts available.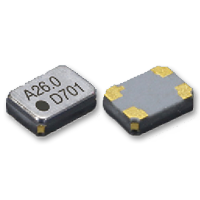 Crystals
We can supply a wide range of commercial and precision crystals for applications as diverse as medical, industrial, defence, space, automotive, telecoms and instrumentation. Covering frequencies from 32.768kHz to 360MHz. Parts are available in a wide range of package styles, including cold weld, resistance weld, thru-hole to SMD and in many sizes from HC49 & 7x5mm to 1.6x1.2mm.
Clock Oscillators
From low cost, high volume, to specials for space/flight applications APC can supply an extensive range of crystal clock oscillators to meet your requirements.
Frequencies range from 12kHz to 2.5GHz with packages from the ultra small 2.0x1.6mm ceramic package to industry standard 7x5mm and 14pin DIL packages. Outputs include CMOS/ TTL, LVPECL, LVDS and sinewave.
TCXOs and VCTCXOs
Temperature controlled crystal oscillators and voltage controlled TCXOs with output frequencies from 3kHz to 1.3GHz. Packages include the incredibly small 2.1x1.7mm & 2.0x1.6mm plus industry standard 7x5mm & CO-08. SMD packaged (14x9mm) tight stability VCTCXOs & TCXOs to Stratum 3 specifications.
OCXOs
Oven Controlled Crystal Oscillators with output frequencies from 1MHz to 2.5GHz using either AT or SC cut crystals. Product highlights include super low phase noise OCXOs for instrumentation and radar applications. Surface mount 19x13mm OCXOs for high stability applications such as GPS or 4G Femtocell.
VCXOs
Voltage controlled crystal oscillators with frequencies from 100kHz to 2.5GHz. Packages from 14pin DIL to 7x5mm plus the smallest package 2.0x1.6mm. A variety of output types are available.
VCOs
Voltage Controlled Oscillators operating in bands to 6.0GHz. VCOs are available in industry standard surface mount or SMA connectorised packages. Low phase noise and low power consumption plus a wide operating frequency range are the main features. For applications from 7GHz to 110GHz we can offer mechanically tuned Gunn diode based VCOs with waveguide or coaxial output.
For technical sales and expert advice on crystal oscillators and filters or to discover
our full range of RF and Microwave components, contact our RF team on:
0330 313 3220 | [email protected]