3D PLUS modules onboard BepiColombo flyby of Mercury
Four 3D-Plus components travel past Mercury onboard the ESA and JAXA probe, BepiColombo
A beautiful sequence of 53 images taken by the monitoring cameras onboard the ESA/JAXA BepiColombo mission were captured as the spacecraft made its first close flyby of its destination planet Mercury on 1st October 2021. This Mercury flyby is the first of six for the probe, before placing itself in a stable orbit around the planet in 2025.
BepiColombo is essentially two spacecraft in one. One part has been developed by the European Space Agency (ESA), the other part by the Japanese Space Agency (JAXA). The way these two components have been packed for the journey to Mercury obstructs the apertures of the main cameras, which can be seen on the images that have been taken.
Several different exposure times were used throughout the imaging sequence in order to try and capture the rapidly-varying brightness of Mercury, and in some cases, the spacecraft and/or the planet are overexposed, particularly in the final departure sequence. Optical and electronic artefacts are also visible in some images.
The gravity assist manoeuvre was the first at Mercury and the fourth of nine flybys overall. During its seven-year cruise to the smallest and innermost planet of the Solar System, BepiColombo makes one flyby at Earth, two at Venus and six at Mercury to help steer it on course to arrive in Mercury orbit in 2025. The Mercury Transfer Module carries two science orbiters: ESA's Mercury Planetary Orbiter and JAXA's Mercury Magnetospheric Orbiter. They will operate from complementary orbits to study all aspects of mysterious Mercury from its core to surface processes, magnetic field and exosphere, to better understand the origin and evolution of a planet close to its parent star.
The following 3D PLUS modules have been used in the mission and were on board the probe when the flyby took place:
SRAM
EEPROM
SDRAM
PoL Converters
Video credit: ESA/BepiColombo/MTM, CC BY-SA 3.0 IGO; Music composed and performed by Anil Sebastian and Ingmar Kamalagharan.
---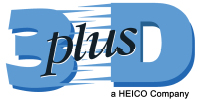 3D PLUS is a world-leading supplier of advanced high density 3D microelectronic products, bare die and wafer-level stacking technology. 3D PLUS's products and solutions are used in high technology industries for industrial, computer boards & embedded systems, defence & security, aircraft & avionics, medical & sciences and aerospace applications.