Test and Measurement Equipment Promotions
The Latest Offers Available From APC Technology Group
As a premier UK and Ireland distributor for best-in-class test equipment and power supply manufacturers, APC is able to offer its customers access to a range of special promotions and discounts on market-leading equipment. Take a look at our latest offers below.
Free Keysight Handheld LCR Meter with selected Keysight power supplies
Ends: 31st May 2022
For a limited time, receive a free Keysight U1733C handheld LCR meter with a qualifying purchase of a Keysight power supply.
Qualifying products are:
B2901B, B2902B, B2911B, B2912B source measure unit
B2961B, B2962B low noise power source
N6702C low-profile modular power system mainframe or N6705C DC power analyser
E36233A and E36234A dual-output power supply
E36313A triple-output power supply
Maximise Your Memory with the Keysight Infiniium MXR
Ends: 30th September 2023
For a limited time, you can get 1.6 Gpts of combined flexible memory for FREE when you purchase a new Infiniium MXR oscilloscope!
Promotion conditions:
Applies to new MXR oscilloscopes only.
Qualifying MXR oscilloscope and free memory must be on the same purchase order.
Reference promotion code 6.056 upon order placement.
Promotion discount cannot be combined with other Keysight promotions.
Lease orders or remarketed equipment are not eligible to receive promotion discount.
Keysight Technologies reserves the right to modify or discontinue this offer during the promotional period.
Get a 5 Year Warranty on Keysight N932xC BSA Spectrum Analysers
Promotion extended to November 2022
Test instruments are crucial for manufacturing or design engineers whose goals are to accelerate throughput and time-to-market. This means that they are relying on their test instrument not to fail.
Keysight's BSA spectrum analysers are an investment that increases productivity with reliable performance up to 20 GHz for engineers on a budget. With the newly added N9321C, N9323C, and N9324C models, customers are eligible to get an extended 5-year warranty as standard on purchases made up to 31st August 2022.
Get 30% discount when you purchase a qualifying 'fully loaded' 3 Series MDO
Ends: 30th December 2022
The 3 Series MDO features a 11.6-inch HD (1920x1080) capacitive touch display. Up to 4 inputs with optional 16 digital channels and built-in spectrum analyser available in 1 GHz or 3 GHz versions.
Get a fully loaded 3 Series MDO at a great price, allowing you to benefit from:
Serial decode & trigger buses such as I2C, SPI, CAN, LIN & USB plus automated power analysis
16 digital channels; free up your analogue channels and see more signals at once
Arbitrary function generator with 13 predefined waveforms and arbitrary waveform generation
Plus! If you are within the education sector, you could also qualify for an additional 15% discount!
Offer valid in Europe, Middle East and Africa only.
Save up to 50% on Tektronix Power Solution Bundles
Ends: 31st December 2023
Own a 4 Series MSO, 5 Series MSO or 6 Series MSO, if so you can benefit from a 50% discount with this probe and software bundle.
With this latest power application bundle, get class leading voltage and current probes along with power analysis software.
Power Analysis Software
Current Probe (up to 30 A)
High Voltage Differential Probe (+/- 1500 V)
Deskew Fixture
This bundle will help optimise and validate the power supply design, including:
Line-side power quality measurements, such as power factor and harmonics
Switching device measurements, such as switching loss and safe operating area
Output measurements, such as ripple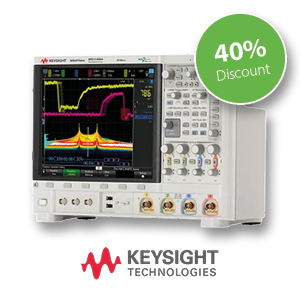 Make Your InfiniiVision Oscilloscope Even Better with 40% off software
Ends: 30th April 2023
Keysight offers the industry's largest selection of compliance, debugging, and application-specific oscilloscope software. The software works seamlessly with your oscilloscope to save time and money getting to the insight you need.
Free trials are available on many popular applications. Be sure to complete your purchase prior to the promotion end date to take advantage of the 40% discount offer.
Buy One. Get Two.
Buy a FieldFox Handheld Analyser and get two FieldFox software options for free.
Ends: 31st July 2023
Do you work with radio frequency (RF) cable trouble-shoots, over-the-air (OTA) wireless communications, analog radio, or electromagnetic interference (EMI) pre-compliance testing? Purchase any qualifying A-Series FieldFox Handheld Analyser and get two of Keysight's most popular software options for free.
For a limited time, customers can claim two complimentary options for the N99xxA range of FF instruments.
* N9912A and N992xA excluded
Free Bandwidth Upgrade: Get a TBS1202C for the price of a TBS1102C
Ends: 30th September 2022
Don't settle for 'fast enough', take advantage of this turbocharged offer on TBS1000C oscilloscopes.
Purchase the TBS1202C with option C3 and save 37% off the cost of the additional calibration option too!
REVAMPED: Save up to 25% on Keysight InfiniiVision Bundles
Automotive, power, and jitter pre-configured bundles available on the InfiniiVision 3000G, 4000, and 6000 X-Series oscilloscopes. With the "Better" and "Best" bundles, a customer will get all hardware, software, probes, and accessories they need to fully test their specific designs:
Automotive Bundles:
Better Bundle: DSO3054GAUT
Best Bundle: MSO4154AAUT
Power Bundles:
Better Bundle: DSO3054GPWR
Best Bundle: MSOX4154PWR
High-Speed / Jitter Application Bundles:
Better Bundle: DSOX6004JIT
Best Bundle: MSOX6004JIT
Exclusive Educational Discount
Get 15% off for qualifying educational establishments from one of the UK and Ireland's leading Keysight and Tektronix approved distributors
Set up accredited teaching labs, test benches and state-of-the-art research labs with an educational discount on all Keysight and Tektronix test and measurement equipment and software from APC Technology Group.
Equip your teaching and research labs now with industry-leading design and test tools and save 15% — valuable for your students and right for your budget.
Get More, Save More, and Do More with Keysight's Good, Better Best Bundles
Knowing what options you need to order can be intimidating, so Keysight has put together a set of Good, Better and Best value bundles for its CXA and CXG range – making ordering these options easier, faster and more economical than ever before.
To take advantage of each value bundle, simply select one of the following Good, Better, or Best Value Bundles and then choose a frequency range for the CXG.
10% Effective Savings with Good Bundles
15% Effective Savings with Better Bundles
20% Effective Savings with Best Bundles
For more information about any of our current promotions and special offers contact a member of our specialist team: